Yes, dear folks,
it is time again for some geartalk!!
Yes, you might as well admit it.... You've been waiting for it, haven't you?
All that gibberish talk about environment, inner thoughts and social issues...
BORING!!
But rest assured... You may feast your eyes on a good handfull of bags!
In this case shoulderbags unfortunately a.k.a. manpurses... But I hate that term, because it does not do the shoulderbags used for outdoorpurposes any justice. A manpurse is something for those fashionable posh guys, who need to carry their mobiles, mascaras and beardgrooming waxes. No, a shoulderbag is for men, who need a place to carry their compasses, knives, bandages and what not with them.
And over time I have collected and tried a number of them, each with their pros and cons and I'd like to compare them here along with my experiences with them. I used my firekit, coffee container and mug to fill the bags in order to make some sort of comparison.
The ransel is a carkit, the pukkel is my son's.
The finbag I still have, the gasmaskbag is on the for sale-list and the ammobag is still in use.
The breadbag is sold and the medicbag remains...
First of all the specifications and requirements I have for those shoulderbags.
The reason for using those is because I do not want to clutter my pockets with all kinds of bits and bobs. I hate that, yet I do want to have a few essentials close at hand. Using a belt is not always the most handy thing to do either, although that would eliminate an annoyingly flapping and tapping bag on your hip or butt. For me a shoulderbag just is more comfortable and easy in use.
The bag has to be roomy enough for the things I need or think I need, yet not too large to become cumbersome and to avoid the risk of overloading it. It is not meant to be used as a daypack (originally)! So here's a rundown of the ones I used, tried, tested, kept, sold or gave away.
The British army S10 respirator bag or haversack
Country of origin is the UK and it is military issue.
Measurements in cm (I have to guess now) would be about 25x25x8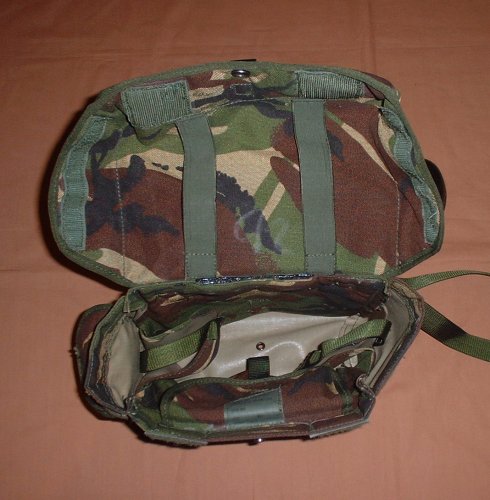 image found on the internet...
This is the green one I gave the local scoutgroup as a firstaidkit.
A good shoulderbag, sturdy, yet not overly heavy, not too big or too small, with a decent internal layout. 2 Larger pockets on the sides, a few smaller ones to the front and plenty of room in the middle plus an external pocket. I really liked the elestic straps on the inside of the lid! A very handy bonus was the option to attach it to your wastebelt, which is actually very easy, because you simply clip the bag to the belt. The camouflageversion had a broadened shoulderpiece. There is a small hole in the bottom to allow water to drain away and even a loop on the back to strap it to your thigh. It felt very solid and durable.
Downsides; For one it uses velcro for closing the flap, which is sewn into the seam. I strongly dislike velcro. The noise it makes... and that is loud on top of that! Than there was the camouflagepattern... so I went for green. The shoulderstraps felt uncomfortable, cutting into the shoulder, when the bag was loaded. Some padding might have solved that, but still the strap felt.... inadequate, thin and not rigid enough. The artificial fibre it was made of was the final point that made me look for other options.
In all honesty, if this one was made out of canvas and leather I would have found a way to get rid of the velcro and probably still have it.
The Dutch army webbing bag a.k.a. "pukkel"
The specimen shown here no longer is mine, but belongs to my son. I hauled mine long enough in my armydays to know it.... and I did use a similar one in my highschool days and after my armyservice. Based on the WW2 British webbingsystem, it is a heavyduty and bombproof bag, which can both be carried as a shoulderbag by using a webbing strap or as a small backpack by using L-straps. I have to say that the shoulderstrap option is the preferable one, with none of them actually being comfortable. The fabric is too coarse and heavy for that. It is part of an complete system, comprising of a webbingbelt, 2 long crossstraps or 2 L-straps, which then connect to the belt via a smaller strap and buckle. Despite it's lack of comfort, or maybe just because of it, this system is highly durable and will most likely outlast any user in the field. Due to this durability, it is also quite heavy. I guess the system outweighs any modern 50+ liter backpack, when empty. However it is also quite versatile. One can hook or clip several tools, canteens or pouches onto the belt and drop the whole system off in the blink of an eye. The weight will be (sort of) evenly distributed over the upper body.
As a shoulderbag it was quite usefull, due to its size 23x24x7cm and with its internal layout of a large compartment in the back and 2 compartments in the front. Main drawback was that these compartments were only divided by the walls. The bottom was not connected, so any small stuff would be moving around. It does have some extra loops on the outside, 2 on each side and one at the top, that makes carrying a tarp, jacket or similar quite easy.

And it's large brother
the "ransel",
but this time in plastic/vinyl
The only reason why I include this one, is to show that both bags are available both in webbing and in this plastic/vinyl. The ransel does have the same carrying options as the pukkel, but it is way to big to comfortably carry it as a shoulderbag, being 34x31x13cm. It has no internal layout and I actually use this one as a carry-all in the car. Keeps all the stuff like startercables, reflective triangle, basic tools and necessities neatly and dry packed together. Needles to say the comparison gear simply disappeared in the bag...
The German army WW2-style breadbag or "Brotbeutel"


Mine actually was a specimen dating from the early 50's and despite its generous size 30x30x8 I actually found it too small for practical use. I wonder how the soldiers managed to pack their rations in it. I could never fit a 24hr ration in there. I used it for a while, but then simply stopped doing so. It was not for me and now it has found a new owner....
As a shoulderbag I found it to be too much of a... well... bag. It is floppy, lacks rigidity.
It has 3 compartments; 2 in the bag itself and 1 in the closing flap. It all buttons down with one strap on the inside and 2 for the lid.
It has several external attachmentloops, which only makes the bag hop and flop even more. Originally it comes with a detachable carryingstrap, but it also has loops to hang it from your belt. That can be done without taking off the belt, but the loops are quite long, making the bag ride low and bump into your butt all the time. I try to imaging what it must be like, having filled the bag with food, attach a full canteen and fieldmesskit to it and than run for cover, whilst under enemyfire!
As a shoulderbag for small items it lacked the possibilty to sort the gear and keep it in place and the limited closing options, making it likely for small things to fall out and be lost.
It was more of a statement than actual practical use, when I used this one and I have grown out of that.
The Finnish army gasmaskbag
standardissue image varusteleka
Via an onlinebuddy I got hold of one of these Finnish army gasmaskbags, at that time highly sought after by many on the various bushcraft forums. It was a gift from him, directly from the country of origin.
and after I was done with the modifications.
I really did like the look and feel of this bag. Made out of a light weight canvas it matched my wants, it was roomy and easily accessible. Quiet too. So I started filling it up with bobs 'n bits and quickly came to one of the main drawbacks of this bag; it lends itself to be overloaded! It has too much room! A luxuryproblem, I know but still... Due to this overloading the closingstuds tended to pop open, while moving. A highly undesirable thing when creeping through the woods. So I started tinkering with it, making an additional closingstrap, added some loops et voila....
As a result it became even more overloaded, but it did hold together. This overloading did nothing for the carrying comfort, though. The straps are too thin for that. I remedied that by adding a broader piece which goes on top of the shoulder. But still it did not carry too well. It is too bulky.
It might make a great buttpack, but that would require a complete reworking of the straps. Sliding it over to your back does ot work, when using both the shoulder- and wastestrap.
The bag itself is quite good. Lots of room, several separate compartments, both big and small and the small pockets in the front have a lid with snaps. Everyting is easily organised and remains in place.
However it does not feel like it is made to last. The fabric is thin, the stitching is simple and in some cases the edges do not even have a seam. The clasps on the straps are nothing more than bent metal wire.
It measures 32x25x12cm roughly, has one large compartment, a lesser one next to it and an array of smaller pockets in several sizes in front. These have one, single flap over them, keeping all those small parts in there.
There seem to be several versions of this type of bag with slightly different layouts and colours!
The Swedish army M40 medicbag
image of an original found on digitalmuseum.se
During my internet quest for the ideal shoulderbag I came across images of the m39 förbandsväska and everything about it appealed to me! The looks, the materials and the probable usefulness! So I set out to track and find one..... Turned out these things are hard to find! Especially in a useable condition and for a good price... Pretty expensive pieces of equipment. Saw them for 1000kr.-1500kr. a piece, but these came with all the original contents and in mint condition.
Untill... one evening... while I was at the local scoutinggroup, I found one. It was the scouting's medical kit.... or something that should be one. The lid had black marker pen writings all over it, the leather straps at the front had been torn and the contents were hopelessly mess up and sometimes very dated. So I made a deal with the groupleader; I'd take that old raggedy bag and would return another one, clean, intact, scout proof and sorted out. He agreed!
At home I immediately set to work, trying the bag and its possibilities. It was a lot bigger than anticipated! I shoved in a set of messtins, a hobostove and pot, a full firstaidkit, a foldingmug, binos and a lot of small stuff.... and I had room to spare! I really had misjudged its size. I can easily carry a full daykit in it, yet the broad leather carryingbelt does not dig into the shoulder, like those thin canvas straps did. But still one would feel it after a days hiking.
The bag is made out of a high quality canvas, to which I added new leather straps and added a cowskin piece on top of the lid, concealing the writing and hopefully give some water repellency. The bag itself measures 32x29x11cm, it has a sturdy leather, adjustable strap and the interior is divided into 2 larger pockets in the front, 2 larger pockets in the back, with one of them holding 2 small pockets in the back. In between there is room to spare. None of them can be closed however.
This bag has become my standard daypack. It rides comfortably on my lower back, is within easy reach and access and it is quiet. No snaps popping or velcro tearing up the silence.
The Swedish army M36 gasmaskbag
Or gasmaskväska m36
Another Swedish surplusbag from this era is the gasmaskbag. It is by far the smallest of the lot and I got that one for a special purpose; to hold a Swedish army messkitset. I figured it might just ne big enough and that little pocket on the front might hold the bottle... Well, wrong.
The bag is just a hint too small for that. The messkit fits sort of, but the rigid leather bottom is just too narroiw to allow the kit to slide all the way to the bottom. Still you can close the bag. But with the kit in place, you can not add the bottle to the pocket. A few more cm's circumference and it would be a perfect fit! Ahh, well... can't have it all, can ya? It measures 25x23x7cm.
The bag itself is kind of stylish, because or despite its ugliness and what you see is basically what you get; a sturdy canvas bag with a thick, rigid leather bottom, a small pocket on the front and metal studs and leather straps for closing it.
The shoulder- and wastestraps are canvas. Mine has a brown leather bottom, but I saw them with green leather bottoms too.
It'll have to go too...
The Swedish army/Hemvärnet M40 ammobag
And finally the star of my shoulderbagshow these days..... A Swedish homedefence ammopouch.
I stumbled across it but accident, never having seen one before or since and this one has it all! The materials, the size, the pockets.....
In due time I will need to replace the leatherparts, since they have become quite dry and brittle or maybe I'll just leave it as it is and alter the other one, which is broken and incomplete as it is. It misses one part of the carryingstrap, yet has a nicer darker greyish green colour. I might add a beltclip and wax it too.
They cost me a whopping 3kr. each. That's 31 eurocents or 39 dollarcents....
As you can see they are basic, no nonsense canvaspouches, 1 single leather closingstrap in the front and an adjustable leather shoulderstrap. Measurements: 27x23x8.
The interior is made up of 2 large compartments over the entire width and 3 smaller pockets against the back. I guess the first held the ammoclips and the latter were for tools. So now they hold those small items I think necessary; compas, sharpeningstone, firesteel.
I added the containers for displaypurposes only, since carrying food in it is not an option. No room. It does have room for a pair of gloves, a gatheringbag, noteblock and pencil and other tidbits.
Chances of overloading this one are practically non existent...
And as a bonus I'll throw in my own, selfmade shoulderbag. It is made out of canvas shelterhalf leftovers and I tried to show some of the characteristics of those shelterhalves, like buttons&holes, markings and even a rope eyelet. Size is about 35x35 and it is flat. The "W"-marking happens to be the first letter of my last name...
I use it, when I am working, harvesting potatoes and such. It doesn't really matter if it gets dirty or damaged. It was more of a learning, funproject that is now being put to use.